Welcome to weisser
WHO WE ARE
---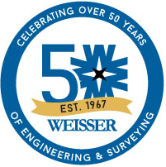 "Our skill and success in delivering quality services didn't happen overnight. It's been over 50 years in the making."
– Walter P. Sass, RPLS & Principal
For over 50 years, Weisser Engineering & Surveying (WES) has provided full service, comprehensive Civil Engineering & Land Surveying services for the Development, Energy, Industrial, and Infrastructure sectors. WES leads the technology curve with extensive continuing education, empowering our team to deliver innovative and proven solutions for our diverse clientele. With an established track record for consistent quality, efficiency, and professionalism, the WES Team supports our clients with an unwavering commitment to advocate for their interests throughout the inception, development, and completion phases.
Learn More
The Weisser Difference
WHY CHOOSE US?
---
Dedicated Team

The WES Team is the heart of our organization. With personal leadership, decades of loyal team members, and a new generation of pioneering minds, WES offers a unique customer experience that cannot be compared.

55+ Year Track Record

Our track record allows WES to provide our clients with not only the knowledge of "Best Practices", but how best to apply new innovation to their respective industries.

Exceptional Quality of Work

WES' success is not only developed by considering the big picture in every project, but it's also in supervising the details. We sign and seal our products with both accuracy and attention to detail.

Diversity Among Industry Sectors

Because a significant portion of our practice is focused on delivering professional services to local, regional, state, federal, and international governmental agencies, our private industry clientele will benefit from our synergistic relationships with these organizations.
ACHIEVEMENT AWARDS


ISTC 2022 Award: Zero Recordable Incidence Rate For Three Consecutive Years
ISTC 2022 Award: 8 Years Without An OSHA Lost Workday Case Involving Days Away From Work
IRWA 2020 Mapping Contest: Overall Winner + Four 1st Place Awards in Transportation, Oil & Gas, Electric & Utilities and Engineering Categories
HBJ 2020 Landmark Award: Holocaust Museum of Houston Renovation + Expansion Project
Industrial Safety Training Council (ISTC) 2019 Award: 5 Yrs. Without An OSHA Lost Workday
Engineering News Record 2019 Award of Merit: Harris County Emergency Services District 9, Four Cy-Fair Fire Stations
ISTC 2018 Award: Zero Recordable Incident Rate For 3 Consecutive Yrs.
ISTC 2018 Award: 4 Yrs. Without An OSHA Lost Workday

Experience Modification Rate (EMR)

0.92 or Below For The Last Five Years

LOST TIME INCIDENT RATE

2021:0
2020: 0
2019: 0
2018: 0
2017: 0
2016: 0
2015: 0

TOTAL RECORDABLE INCIDENT RATE

2021:0
2020: 0
2019: 0
2018: 1.6
2017: 0
2016: 0
2015: 0
Testimonials
WHAT OUR CLIENTS SAY
---
What's New
NEWS & PRESS RELEASES
---
February 8 & 9, 2019 - WES Sponsors & Volunteers at Sky High for Kids 12th Annual Houston Event

---

More

July 5, 2018 -ISTC Safety Awards

---

HOUSTON -July 5, 2018 -In June, 2018, Weisser Engineering & Surveying (WES) received the "Safety Achievement Award for Years Worked for Four Years Without a Lost Workday" in 2017 and the "Safety Achievement Award for Sustained Performance for Zero Recordable Incidents for Over Three Years" from the Industrial Safety Training Council (ISTC) at the Awards Banquet in Beaumont, Texas. This is the 3rd consecutive year WES has received recognition from Non-Profit Organization.

More
Weisser Engineering & Surveying Sponsors $ 1.15MM Sky High for Kids Houston 2023 Event To End Childhood Cancer

---

More

February 8 & 9, 2019 - WES Sponsors & Volunteers at Sky High for Kids 12th Annual Houston Event

---

More

July 5, 2018 -ISTC Safety Awards

---

HOUSTON -July 5, 2018 -In June, 2018, Weisser Engineering & Surveying (WES) received the "Safety Achievement Award for Years Worked for Four Years Without a Lost Workday" in 2017 and the "Safety Achievement Award for Sustained Performance for Zero Recordable Incidents for Over Three Years" from the Industrial Safety Training Council (ISTC) at the Awards Banquet in Beaumont, Texas. This is the 3rd consecutive year WES has received recognition from Non-Profit Organization.

More